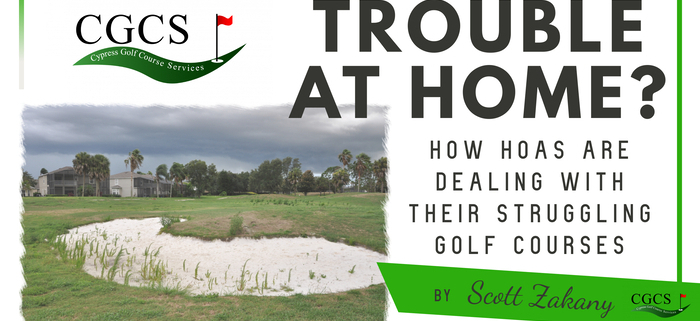 Homeowners will foot the bill for dead Golf Courses…

Most everyone is familiar with the term "dead mall" or "dying mall" to refer to a shopping center that has become stagnant or they may have lost its anchors and many of its tenants. Now, suburban America is experiencing a new phenomenon a "dead golf course" right in their own backyards. One that is very difficult to address for the homeowners surrounding these courses. These are not big box retailers, these are homeowners that will be the ones paying the price, either in cash or a substantial loss of equity in their homes. Homeowners and HOAs across the U.S. are dealing with this relatively recent upswing in golf course failures. Which was the result of the boom of over building of residential golf course communities in the 80's and 90's. Many that are now faced with a need of extensive capital to keep things going. The glut of courses being built combined with the number of golfers remaining the same, become a quite simple supply and demand issue. Every course ends up with a smaller slice of the pie, creating lower golf prices that are competition driven. The golf courses end up with operating cash short fall and the course suffers. Ultimately, the homeowners surrounding courses are faced with decreased property values and an uncertainty as to what to do. Through their HOAs, homeowners often engage in protracted, costly litigation to protect their backyard views and property values. There are development consultants that I know who get calls weekly from HOAs looking for answers. The HOA boards face the choice of taking action, by getting involved in supporting course the golf course or accepting that the golf course land will go fallow and the home values will shrink dramatically. Real estate developers-built course after course in the 1990's-2000's. Courses provided many things for the developer to maximize their return. An amenity, creating a lifestyle to help sell the homes. Courses created lakes and ponds that did a few things, satisfied open space requirements, created connecting reservoirs to handle storm water drainage required and provided the required fill dirt to build up house lots. It was a successful tactic that added thousands of courses across the U.S. Many notably longer and more challenging and that consumed more total acreage than courses had traditionally, allowing for more homes to benefit from course frontage and the elevated premiums that came along with these developers. Real estate developers knew that they were in the business of building, not operating, golf courses, so they usually sold or gave away their interest (and liability) in the clubs. The business plan for these courses assumed some level of membership for most people who purchased in the communities to support and maintain the facilities. Interesting that on average only about 15% of the people that live on golf courses play golf.
Non-golfers purchased these properties because they provided a beautiful, peaceful setting in their backyards. However, most did so without understanding the full cost of ownership in a golf-based community. Many of these buyers and those who came after the market correction had no idea of the value risk of buying into a community that was not supporting its golf club. Essentially, property values were being subsidized by the golfers and club members supporting the club. Most of these homeowners simply did not know what they were getting into. Living in any community entails some level of commitment on every homeowner's part to participate and contribute to the overall value of the neighborhood. Whether it is shopping locally, keeping the lawn cut or maintaining our homes, in a neighborhood, everyone has the responsibility to each other to prevent property values from declining. This is especially true in golf course communities. Every property value in the community is affected, not just the homeowners that live directly on the golf course or the members that have already joined to support the club. The course failures and legal battles that are now being seen are the result of the golf course community homeowners' failure to act. HOAs have begun to realize their errors and are taking step to resolve these issues. Many homeowners are experiencing a decline in value as a course begins to show signs of its death spiral. Once closed and left untended for as little as a year, it can cost millions dollars to repair and reopen a course as nature reclaims unmaintained land very quickly, and home values can drop as much as 50% within months of a course closing. HOAs face tough decisions such as: do they buy the facility or enter into some other arrangement financial assist the owners in order to maintain the course and clubhouse. HOAs struggling with a closed or failing club need to be proactive. Some develop plans for monthly dues to the club as part of the cost of homeownership. Some have hired third party maintenance companies that maintain the conditions of the course. And/or management companies that can run the entire operations. But when conditions slide, they must act before it is too late. There are many golf course communities in this situation and is likely to grow over the next few years. No matter the outcome, homeowners will be the ones who pay the price, either by supporting the course and the club in their backyard, giving the lifestyle that originally desired or by the loss in the value of their homes. The time to seek help is before the conditions begin to fail and to get the buy in of the entire HOA.
Maintenance companies like Cypress Golf Course Services can get the conditions back, even when the course has gone downhill. Management companies like Cypress can help guide you through the process and/or run the entire operation after a transition. The key takeaway is that you must act before it is too late.
https://www.cgcs.com/wp-content/uploads/2020/12/Blog-Hedaer.jpg
400
700
Scott Zakany
https://www.cgcs.com/wp-content/uploads/2020/01/cgcs-logo-Hi-Res-300x182.png
Scott Zakany
2020-12-07 12:53:53
2021-03-22 09:40:20
Trouble At Home?